Texto completo
To the Editor,
Infantile digital fibromatosis is a mesenchymal tumor of myofibroblastic origin that usually occurs on the fingers and toes of children. Clinically, it presents as one or more generally asymptomatic, firm nodules. Its predominantly acral location and rapid growth can lead to a decrease or loss of motor function.
A 4-year-old girl presented with an asymptomatic soft tissue tumor on the third finger of the right hand that was clinically and histologically compatible with infantile digital fibromatosis, for which she underwent plastic surgery (Fig. 1A). One month after the intervention, she presented with a new rapidly growing lesion on the fourth finger of the right hand (Fig. 1B). She was treated with intralesional steroid injections, to which she responded poorly. The lesions resolved partially after a follow-up period of 1 year (Fig. 1C).
The second patient was a healthy 1-year-old boy who presented with a congenital soft-tissue tumor that was located on the third toe of the left foot and had grown progressively (Fig. 2A). Despite undergoing 2 surgeries in another center, including complete amputation of the third finger, the lesion had recurred after a few months (Fig. 2B). The patient was followed up at his reference hospital, and therefore we have no further data on his progression.
Infantile digital fibromatosis is considered a rare benign mesenchymal tumor that accounts for around 2.5% of all cases of fibromatosis.1 Onset can occur at birth or in early childhood (86% of cases are described in the first year of life).
Histology reveals circumscribed, nonencapsulated nodules located in the deep dermis and extending to the subcutaneous cellular tissue. Spindle cells grouped into fascicles intersect in an anarchic manner. The presence of intracellular and eosinophilic inclusion bodies that become more evident with immunohistochemical staining (e.g. Masson trichrome and Mallory phosphotungstic-acid hematoxylin) is pathognomonic2 (Fig. 3A–C). However, the absence of these inclusion bodies does not rule out this diagnosis if other clinical and histological findings are compatible.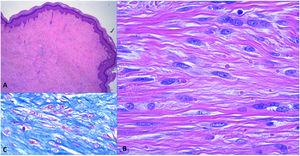 Figure 3.
Histological findings. A, Proliferation of spindle cells occupying the entire thickness of the dermis (hematoxylin–eosin, original magnification ×4). B, Higher-magnification image of spindle cells (hematoxylin–eosin, original magnification ×40). C, Intracellular inclusions visualized using Masson trichrome stain (original magnification ×40).
(0,28MB).
These tumors generally stabilize and subsequently involute after a period of rapid growth lasting 10–14 months. There are multiple documented cases of spontaneous involution after stabilization, in some cases leading to complete lesion resolution in 6 months to 5 years.3,4 To date, there are no documented reports of distant metastasis.
The differential diagnosis includes other causes of soft tissue tumors such as juvenile aponeurotic fibroma, pachydermodactyly, hypertrophic scars and keloids, and terminal osseous dysplasia. Unlike infantile digital fibromatosis, juvenile aponeurotic fibroma is an invasive tumor characterized by calcification, and usually occurs on the palms and soles, but not the fingers. Pachydermodactyly most commonly affects young adults and is usually associated with microtrauma. Terminal osseous dysplasia is an X-linked dominantly inherited syndrome with multifocal involvement and is not limited to the fingers.
There is currently no clear consensus on the treatment of infantile digital fibromatosis. Surgical intervention with wide margins has traditionally been considered the first-line treatment. However, the recurrence rate is very high (61–74%) and the associated postoperative morbidity, as in the second case described here, may be prohibitive. Given the high number of documented cases of spontaneous involution, an initial conservative attitude is recommended.3,4 In symptomatic patients or those with an associated functional deficit, Mohs micrographic surgery may offer better results in terms of efficacy and postsurgical sequelae than conventional surgery with wide margins.5,6 Nonsurgical approaches include cryotherapy,7 regular steroid infiltrations8 and 5-fluorouracil, for which variable responses have been reported, as in the first of our 2 cases.
In conclusion, infantile digital fibromatosis is a soft tissue tumor, treatment of which can be complex and should be preceded by a thorough assessment of the risks and benefits. In asymptomatic patients without significant functional deficits, we propose that clinical observation and nonsurgical treatment are likely the most appropriate therapeutic options.
Conflicts of Interest
The authors declare that they have no conflicts of interest.