Texto completo
Castleman disease (CD), or angiofollicular lymphoid hyperplasia, is characterized by a process of reactive hyperplasia affecting the immune system. The condition can, therefore, give rise to a clinical picture similar to that of either a connective tissue disease or an autoimmune disease.1 We report a case of Castleman disease and Hodgkin lymphoma in a patient who developed a mixed connective tissue disease (MCTD).
Case Description
The patient was a 49-year-old man, who had recently been diagnosed with Hodgkin lymphoma and multicentric Castleman disease and was being treated with adriamycin, bleomycin, vinblastine, and dacarbazine. He was referred to our department when he developed skin lesions and photosensitivity in association with Raynaud's phenomenon and muscle weakness a month after completing chemotherapy.
Physical examination revealed the following: erythematous-violaceous coloration on sun-exposed areas, elbows, and knees; edema of the palms and soles; and erythematous scaly papules on the dorsal surfaces of the interphalangeal and metacarpophalangeal joints of the hands consistent with Gottron papules (Fig. 1). Capillaroscopy demonstrated disorganization of the capillary bed, loss of normal capillary distribution, and a few thrombosed giant capillaries.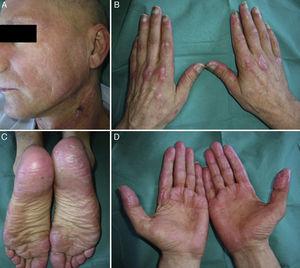 Figure 1.
A, Erythematous-violaceous rash on the face and neck, which spares areas not exposed to sunlight, such as the lower eyelids and the submental area; alopecia due to chemotherapy also observed. B, Gottron papules on the metacarpophalangeal and interphalangeal joints. C, Edema in the soles of both feet. D, Swollen palms and sausage fingers.
(0,29MB).
Two of the explorations performed yielded significant results: an electroneurogram evidenced sensory-motor polyneuropathy; and autoimmune tests revealed antinuclear antibodies (titers of 1:1280), anti-Smith antibodies, and anti-U1 ribonucleoprotein (U1-RNP) (titers > 1:1.600). The results of other autoantibody tests were negative. Histological study of biopsied samples of skin and muscle tissue from the arm revealed vacuolization of the basal layer and thickening of the basement membrane as well as a positive periodic acid-Schiff stain (Fig. 2) and signs of inflammatory myositis. These findings led to a diagnosis of MCTD associated with Castleman disease and Hodgkin lymphoma. In view of the reported association between Castleman disease and the human immunodeficiency virus and the human herpesvirus 8, serology was performed to screen for these viruses, with negative results in both cases. The negative result for the human herpesvirus 8 was confirmed by a polymerase chain reaction assay in peripheral blood, in which no viral load was detected.
Initial treatment with corticosteroids and antimalarials had little effect on the symptoms of MCTD, but subsequent treatment with rituximab achieved remission of both MCTD and Castleman disease. The regimen used was 375mg/m2 administered intravenously once a week for 4 weeks, with a repeat cycle after 6 months, in combination with methylprednisolone 7.5mg/d (Fig. 3).
Discussion
MCTD was first described in 1972 as a disorder characterized by a combination of the clinical features of systemic lupus erythematosus, systemic scleroderma, polymyositis/dermatomyositis, and rheumatoid arthritis in the presence of high titers of anti-U1-RNP.2 The most common clinical manifestations include Raynaud's phenomenon, swollen hands, fingers with a sausage appearance, joint pain, and muscle weakness. The cutaneous manifestations include features consistent with a dermatomyositis-like or systemic lupus erythematosus-like photosensitivity, ulcers, Sjogren syndrome, and urticarial vasculitis, although no specific or pathognomonic clinical finding has been identified.3
The diagnostic criteria proposed by Alarcón-Segovia et al.4 have a sensitivity of 100%. For a confirmed diagnosis, the patient must fulfill the serologic criteria (anti-U1-RNP autoantibodies with a titer in hemagglutination of > 1:1600) and at least 3 of the clinical criteria, which are swollen hands, synovitis, myositis, Raynaud's phenomenon, and acrosclerosis.
There have been several reports of patients with Castleman disease presenting autoimmune manifestations, with more cases of hemolytic anemia and fewer of connective tissue disease. The onset of autoimmune manifestations has been reported as occurring both before and after the onset of Castleman disease. To date, only 3 cases of MCTD associated with Castleman disease have been reported in the literature. Nanki et al.5 reported the case of a 60-year woman with multicentric Castleman disease and EMTC in which pharmacological remission was achieved following treatment with melphalan; Chrispal et al.6 reported associated EMTC and Castleman disease in a 16-year-old girl; and Hosaka et al.7 reported 3 cases of Castleman disease mimicking the features of collagen disease, one of them with symptoms typical of MCTD. No association with Hodgkin lymphoma was reported in any of these cases.
In the case of our patient, the treatment chosen was the anti-CD20 agent rituximab because an increased mean survival has been reported in patients with Castleman disease on rituximab-based therapies, although there is less experience on the use of this therapy in EMTC.8 Remission of the clinical manifestations of subacute lupus has been reported in patients with MCTD as well as improvement in refractory thrombocytopenia and Raynaud's phenomenon; the only adverse effect reported in these patients treated with rituximab was 1 case of severe ischemia.9–11 The therapeutic mechanism of rituximab involves depletion of CD20 positive cells, which are its therapeutic target. CD20 positive cells are directly or indirectly responsible for the dysregulated production of interleukin-6 and other cytokines.
In this case it appears that 3 diseases may be related. Overproduction of interleukin 6 by Reed-Sternberg cells and histiocytes in Hodgkin lymphoma has been demonstrated, and this abnormal immune state is responsible for the association between Hodgkin lymphoma and Castleman disease.12 The resulting proinflammatory cytokine microenvironment may trigger an exaggerated immune response, leading to a loss of tolerance and the development of an autoimmune disease.13
Please cite this article as: Gracia-Cazaña T, Delgado-Beltrán C, Concellón MA, Fuertes MA. Enfermedad mixta del tejido conectivo en el contexto de enfermedad de Castleman y linfoma Hodgkin con excelente respuesta clínica a rituximab. Actas Dermosifiliogr. 2015;106:843–846.
Copyright © 2015. Elsevier España, S.L.U. and AEDV