Texto completo
The scarring alopecias (SA) form a group of disorders that provoke permanent hair loss because of the substitution of hair follicles by fibrosis or hyalinized collagen.1 The acquired forms can be caused by physical mechanisms, chemical trauma, skin infections, tumors, and other dermatoses such as chronic cutaneous lupus erythematosus or lichen planopilaris (LPP).2
Wigs can be used in the treatment of SA. Wigs are classified according to the type of hair and the method of fixation. Their disadvantages include hair rupture caused by the adhesives and traction by the fasteners.3,4
In this article we discuss the case of a 58-year-old woman with LPP of the scalp who developed plaques of SA after using a wig.
In her past history she reported hypertension and dyslipidemia and she had been followed up for years in the dermatology department for telogen effluvium, female-pattern androgenetic alopecia, and LPP (confirmed on biopsy). Nine months before the last follow-up consultation, the patient was diagnosed with infiltrating ductal carcinoma of the left breast, for which she received combined radiotherapy and chemotherapy with doxorubicin, cyclophosphamide, and fluorouracil; this produced anagen effluvium that had become repopulated by the time of consultation. The eyebrows were unaffected.
She came to the clinic wearing a wig. On removing the wig, we observed a pale skin with frontal and parietal alopecia, with persistence of a few isolated hairs and areas of follicular hyperkeratosis. Biopsy revealed areas of cicatricial fibrosis with an absence of hair follicles, and other areas with a dense perifollicular lichenoid infiltrate. The hair in the occipital region was preserved (Fig. 1).
Interestingly, there were 5 bilateral, symmetrical round plaques of alopecia in the midline frontal, temporal, and retroauricular regions. The dermoscopy image of the retroauricular area showed a loss of follicular orifices and mild erythema. Histopathology revealed preservation of isolated hair follicles with a lichenoid infiltrate and the substitution of other follicles by vertical tracts of scar tissue (Fig. 2).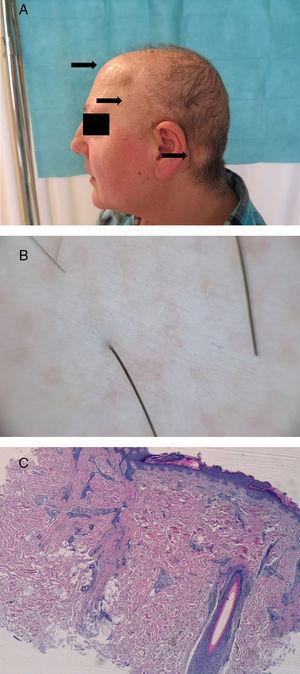 Figure 2.
A, Plaques of alopecia (arrows) in the midfrontal and left temporal and retroauricular areas. B, Dermoscopic image of retroauricular area. Loss of follicular orifices. C, Histology of a biopsy from the retroauricular area. A preserved hair follicle with a lichenoid infiltrate and vertical tract of scar-tissue left by the destruction of a follicle. Hematoxylin and eosin, original magnification ×4).
(0,34MB).
The cause of these plaques of alopecia was the wig that the patient wore a minimum of 7hours a day when working and, more specifically, the fasteners on the underside of the wig to fix it to the head (Fig. 3). As she no longer had sufficient hair to use the fasteners, she applied double-sided adhesive tape over them. When the position of the fasteners was marked with a dermographic pen, we found they coincided with the totally alopecic plaques in the midline frontal and right and left temporal and retroauricular regions. We made a diagnosis of acquired scarring alopecia secondary to LPP lesions (classic or its frontal fibrosing alopecia variant) that had developed as a Koebner phenomenon due to the pressure of the fasteners when the wig was being worn and due to traction when removing the adhesive tape.
The isomorphic or Koebner phenomenon consists of the appearance of typical lesions of a specific dermatosis in areas of healthy skin previously stimulated by various forms of trauma, such as friction, pressure, or traction. Only psoriasis, vitiligo, and lichen planus are included in the true Koebner phenomenon (category I).5 LPP, a follicular form of lichen planus, is subdivided according to its clinical presentation into classic LPP, frontal fibrosing alopecia, and Graham-Little-Lassueur-Piccardi syndrome.1 Some authors consider there to be a fourth variant whose pattern of distribution can mimic androgenetic alopecia.
The Koebner phenomenon has been described in both classic LPP and frontal fibrosing alopecia. Although LPP can occur after trauma, burns, radiotherapy, or performing break dancing, the majority of cases arise after hair transplant. According to some authors, many patients who develop LPP after hair transplant in the context of androgenetic alopecia actually previously had LPP incorrectly diagnosed as seborrheic dermatitis or folliculitis. It must be noted that active LPP is a contraindication to performing hair transplant.6,7
The following differential diagnoses should be considered:
1.

Pressure alopecia, a disorder that may or may not involve scarring. Several types exist, some very common, such as postoperative alopecia after long operations and anterolateral leg alopecia caused by friction with socks and trousers, and other rarer forms, such as alopecia after resting the head for many hours watching television or annular alopecia of the newborn due to pressure against the mother's pelvis.2,8,9

2.

Alopecia areata, an entity in which the rapid appearance of new plaques (in 1 to 7 days) has been reported as a result of a Koebner phenomenon caused by traction on a hairy perilesional area to obtain hairs for a trichogram.10
In conclusion, very few articles have described the Koebner phenomenon in LPP. We consider this report interesting as it describes the case of a woman with LPP who developed localized plaques of SA affecting only the areas of pressure of the fasteners used to hold her wig in place. We have found no previous reports of this association in the literature.
Conflicts of Interest
The authors declare that they have no conflicts of interest.
Please cite this article as: Monteagudo B, Vilas-Sueiro A, Cabanillas M, Durana C. Liquen plano folicular causado por una peluca: fenómeno de Koebner inusual. Actas Dermosifiliogr. 2016;107:438–440.