Article information
Abstract
Full Text
Bibliography
Download PDF
Statistics
Abstract
Paraphenylenediamine (PPD) is an amine that is mainly used as an ingredient in hair dyes and henna tattoos. The incidence of allergic contact dermatitis to PPD is increasing, particularly in younger patients. In this article, we review the main sources of PPD and the substances with which it can interact and present a practical algorithm for diagnosing and treating suspected cases of PPD allergy.
Keywords:
Paraphenylenediamine
Dyes
Tattoos
Henna
Contact dermatitis
Allergy
Resumen
La parafenilendiamina (PPD) es una amina empleada en la actualidad principalmente como componente de tintes capilares y en tatuajes de henna. Se ha observado un incremento en la incidencia de la dermatitis alérgica de contacto por PPD, y en edades cada vez más tempranas. En el presente trabajo se realiza una revisión de las principales fuentes que contienen PPD, así como de las sustancias con las que puede interaccionar, y se propone un algoritmo de manejo diagnóstico y terapéutico desde un enfoque práctico, para los pacientes que presenten una clínica compatible con sospecha de alergia a PPD.
Palabras clave:
Parafenilendiamina
Tintes
Tatuajes
Henna
Dermatitis de contacto
Alergia
Article
These are the options to access the full texts of the publication Actas Dermo-Sifiliográficas (English Edition)
Subscribe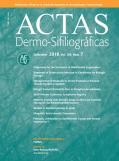 Subscribe to
Actas Dermo-Sifiliográficas (English Edition)
Contact
Telephone
From Monday to Friday from 9 a.m. to 6 p.m. (GMT + 1) except for the months of July and August which will be from 9 a.m. to 3 p.m.
Calls from Spain
902 88 87 40
Calls from outside Spain
+34 932 418 800
E-mail