Texto completo
To the Editor
A 56-year-old woman was seen for asymptomatic nodules that had appeared several months earlier and were located on the elbows and the backs of the hands at the metacarpophalangeal joints. She reported no local or systemic symptoms apart from mild, periodic, nondisabling pain of the finger joints that did not require regular use of medication. Physical examination revealed painless, skin-colored or slightly erythematous subcutaneous nodules that were attached to deep planes (Fig. 1A). The lesions did not compromise joint function. Dermoscopy findings were nonspecific, and included a lesion with a flesh-colored background and white, mainly crystalline structures, as well as poorly focused irregular vascular structures (Fig. 1B).
Figure 1.
A, Skin-colored nodule located on the back of the hand at the metacarpophalangeal joint. B, Dermoscopic image of the lesion shown in A, showing a skin-colored background and nonspecific crystalline structures, as well as poorly focused irregular vascular structures. C, Ultrasound image of the lesion shown in A, showing a well-defined hypoechoic nodule located deep in the dermis. D, Ultrasound image of the lesion showing no power Doppler activity.
(0,15MB).
Ultrasound revealed a well defined nodule with hypoechoic content and no power Doppler activity that was in contact with the extensor tendon of the fourth finger (Fig. 1C and D). In laboratory tests C-reactive protein levels and the erythrocyte sedimentation rate were consistently within the normal range in successive analyses. Rheumatoid factor and anti-cyclic citrullinated peptide (anti-CCP) antibody were negative. An X-ray of the hands revealed no joint alterations. The X-ray was evaluated by staff at the rheumatology department of our hospital, who found that no criteria for any specific arthropathy were fulfilled.
An excisional biopsy of one of the nodules on the hands showed granulomas with an eosinophilic center surrounded by palisaded histiocytes, with absence of mucin (Fig. 2A and B). The histological diagnosis was compatible with a rheumatoid nodule. Because the patient did not meet the criteria for rheumatoid arthritis, a diagnosis of rheumatoid nodulosis has been established after more than 5 years of follow-up.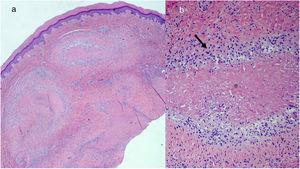 Figure 2.
A, Panoramic image showing granulomas located in the deep dermis (hematoxylin-eosin, original magnification ×20). B, Detail of the same image showing granulomas composed of palisaded histiocytes (arrow) arranged around a central eosinophilic zone corresponding to fibrin (asterisk) (hematoxylin-eosin, original magnification ×100).
(0,35MB).
Discussion
Rheumatoid nodulosis is characterized by the presence of histologically confirmed rheumatoid nodules with absent or mild joint pain. The lesions have a benign course, and the systemic findings characteristic of rheumatoid arthritis are absent.1
The nodules usually appear in the fifth decade of life, are more common in men, and are preferentially located on extensor surfaces such as the elbows and the backs of the fingers, although any area can be affected.2 The literature describes certain cases triggered by treatment with drugs, in particular methotrexate and anti-tumor necrosis factor biological therapies. These cases usually correspond to palindromic rheumatoid arthritis, which precedes the joint pain.3 Our patient had at no time received treatment with any of these drugs.
The nodules are usually skin colored, and can be solitary or multiple. They can be mobile or attached to the periosteum, bursa, or tendons,2 but rarely result in compression of adjacent structures. Neither dermoscopy nor ultrasound reveal findings specific to this entity, but both techniques can help characterize the relationship with nearby structures.
The clinical differential diagnosis should include subcutaneous granuloma annulare, tophi, xanthomas, and sarcoidosis, among other entities, and histological differentiation from other processes that involve necrobiotic granulomas is required.1,2 The main differential diagnosis is granuloma annulare, deeper forms of which can be difficult to distinguish from rheumatoid nodulosis. In rheumatoid nodules the area of necrobiosis is more homogeneous and eosinophilic owing to the presence of fibrin and the absence of mucin. By contrast, granuloma annulare has a basophilic appearance owing to the presence of mucin and the absence of fibrin. Joint involvement is either absent or mild, and laboratory test results are generally positive for rheumatoid factor3–5 and negative for anti-CCP antibody. However, rheumatoid nodulosis patients can test negative for rheumatoid factor, as occurred in our patient. In rare cases progression to erosive arthritis has been described, in some cases fulfilling the criteria for rheumatoid arthritis over time.2,3,6–9
The lesions do not usually require treatment, although occasionally treatment with nonsteroidal anti-inflammatory drugs or intralesional corticosteroids may be required. Resection can be performed to alleviate severe local discomfort in highly symptomatic patients.2,6
We wish to stress the importance of considering a potential diagnosis of rheumatoid nodulosis in cases of rheumatoid nodules without a diagnosis of rheumatoid arthritis, bearing in mind that progression towards rheumatoid arthritis has been reported in rare cases.
Conflicts of interest
The authors declare that they have no conflicts of interest.
Please cite this article as: Álvarez-Chinchilla PJ, Poveda Montoyo I, Illán F, Bañuls Roca J. Nodulosis reumatoideos en una paciente adulta con factor reumatoide negativo. Actas Dermosifiliogr. 2019;110:865–867.