Texto completo
Pyoderma gangrenosum is a rapidly progressing and potentially serious inflammatory skin disease characterized by painful ulcers. It can occur in the absence of an underlying trigger or in association with certain systemic diseases, the most common being inflammatory bowel disease and hematologic disorders.1–8
Establishing a definitive diagnosis is challenging as there are no specific clinical, laboratory, or histopathologic features. A diagnosis is therefore reached following exclusion of other causes of skin ulceration.1,4–6
We present the case of a patient who presented with an ulcerated abdominal lesion with clinical features of pyoderma gangrenosum but histologic features of cutaneous squamous cell carcinoma (Table 1).
Table 1.
Differences in Histologic Findings Between Pyoderma Gangrenosum and Squamous Cell Carcinoma.a
| Pyoderma Gangrenosum  | Squamous Cell Carcinoma  |
| --- | --- |
| Biopsy findings may be nonspecific, particularly in the case of mildly inflammatory or partially treated lesions  | Proliferation of tumor cells that invade the dermis and are characterized by a certain degree of pleomorphism and mitosis  |
| Sterile neutrophilic infiltrate in the dermis  | Cell with a variable degree of keratinization depending on the level of differentiation  |
| Signs of leukocytoclastic vasculitis  | Varying degrees of nuclear atypia and cellular differentiation within and between tumors  |
| Pronounced tissue necrosis with perivascular mononuclear cell infiltrates in fully developed ulcers  | Inflammatory infiltrates with considerable variations in intensity and mainly consisting of lymphocytes and plasma cells  |
| Absence of demonstrable fungi, bacteria, or mycobacteria with special stains and cultures  | Positive immunohistochemical staining for pancytokeratins for AE1/AE3, and p63  |
| No specific immunohistochemical markers  |   |
Case Report
The patient was a 54-year-old man without no remarkable past history referred to our department with recurrent outbreaks of small pruritic lesions on the trunk and extremities and a painful ulcer that had appeared spontaneously 3 weeks earlier. Physical examination showed an ulcer measuring 3×1.5cm with an indurated violaceous border, a necrotic base, and a fibropurulent exudate on the right edge (Fig. 1).The only other remarkable finding was 2 small isolated pustular lesions on the right thigh and right chest.
With a tentative diagnosis of pyoderma gangrenosum, we performed a skin biopsy, which showed intense epidermal hyperplasia with a pseudoepitheliomatous pattern, areas of necrosis in the dermis, and a mixed inflammatory infiltrate without vasculitis. We also observed nests and squamous epithelial plaques with irregular borders at different levels of the reticular dermis together with central keratinization and discrete cellular atypia. These findings were consistent with a well-differentiated squamous cell carcinoma (Fig. 2).We also performed a complete blood count, which showed no remarkable alterations, an abdominal ultrasound, which showed evidence of moderate hepatic steatosis, and a computed tomography scan of the chest, abdomen, and pelvis, which showed occult masses. A colonoscopy performed by the gastroenterology department was normal.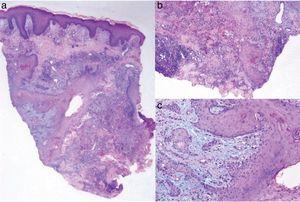 Figure 2.
A, Epidermal hyperplasia with a pseudoepitheliomatous pattern and areas of necrosis in the dermis with a mixed inflammatory infiltrate (hematoxylin-eosin, original magnification ×4). B,C, Nests and squamous epithelium plaques in the dermis with central keratinization and discrete cellular atypia (hematoxylin-eosin, original magnification ×20).
(0,35MB).
Despite the discrepancy between the clinical and histologic findings, a diagnosis of pyoderma gangrenosum was established and the patient was started on oral prednisone 0.5mg/kg/d. His initial response was good (Fig. 3), but he subsequently developed progressive ulcerated lesions. The treatment was switched to oral ciclosporin 5mg/kg/d, which resulted in partial response and poor blood pressure control. The patient was finally treated with infliximab at a dosage of 5mg/kg every 8 weeks. This treatment achieved good clinical control and there have been no signs of recurrence in 18 months of follow-up.
Discussion
Pyoderma gangrenosum is an uncommon neutrophilic skin disorder of unknown etiology that is clinically characterized by solitary or multiple pustules or nodules that progress rapidly to necrotic ulcers with a violaceous border.1,2 Fifty percent of cases are associated with systemic disease. The most common diseases are inflammatory bowel disease, seronegative arthritis, and certain hematologic disorders.1–9
Establishing a definitive diagnosis can be complicated due to the lack of specific clinical, laboratory, and histopathologic findings. The diagnostic workup in a patient with suspected pyoderma gangrenosum should, therefore, have 2 goals: the exclusion of other cause of skin ulcers, such as infections, vasculitis, and tumors, and assessment of the presence of an associated systemic disorder.1,4–10
In our case, even though the pathology report suggested squamous cell carcinoma, the morphology and location of the ulcer and the rapid progression were more indicative of pyoderma gangrenosum. The diagnosis was confirmed by the subsequent appearance of similar lesions and rapid response to immunosuppressive therapy.
Two cases of pyoderma gangrenosum mimicking squamous cell carcinoma have been reported in the literature. In 2012, Wolfe et al.4 described the case of a patient with an ulcerated lesion on the left hand that was histologically compatible with a moderately differentiated squamous cell carcinoma but that progressed rapidly following excision. Evaluation by the dermatology team and a second biopsy showed a neutrophilic infiltrate in the reticular dermis; the patient was diagnosed with pyoderma gangrenosum and improved rapidly after initiation of treatment with oral prednisone. In 2015, Čuk Radović et al.5 published the case of a patient with large, ulcerated lesions on the trunk who had been initially treated for chronic infection and subsequently for squamous cell carcinoma on observation of compatible histologic findings. The lesions were treated with several wide local excisions, but the disease recurred rapidly at the edges and there was additional progression of ulcers.
We have presented a new case of pyoderma gangrenosum with histopathologic findings consistent with squamous cell carcinoma. This case highlights the importance of integrating clinical and histologic findings to aid the establishment of a definitive diagnosis, avoiding diagnostic delays and unnecessary treatments, including invasive surgery, which can lead to clinical exacerbation due to pathergy reactions.
Conflicts of Interest
The authors declare that they have no conflicts of interest.
Please cite this article as: González-Sabín M, Rodríguez-Díaz E, Gonzalvo-Rodríguez P, Astola-Hidalgo I. Pioderma gangrenoso simulando un carcinoma epidermoide. Actas Dermosifiliogr. 2019;110:400–402.
Copyright © 2018. Elsevier España, S.L.U. and AEDV