Texto completo
To the Editor:
The growth in popularity of tattooing in recent decades has coincided with an increase in the number of articles describing adverse effects associated with tattooing.
Complications associated with tattoos include cutaneous and systemic infectious processes, inflammatory reactions with varied histological patterns, the appearance of benign or malignant skin tumors in tattooed areas of skin, and various dermatoses in tattooed areas resulting from isomorphic phenomena.1
A 39-year-old man consulted for an itchy rash in the red-ink areas of a tattoo completed 1 month earlier. Physical examination revealed well-defined, firm, raised, erythematous hyperkeratotic lesions coinciding with the areas of red ink (Fig. 1). Dermoscopy showed rounded or oval-shaped areas of variable size with an erythematous center and a pinkish periphery, separated from one other by yellowish hyperkeratotic scales (Fig. 2). Histology showed marked acanthosis and epidermal papillomatosis without atypical cells, hyperkeratosis and areas of parakeratosis, and intracellular and extracellular deposits of red pigment in the dermis accompanied by a predominantly lymphohistiocytic infiltrate (Fig. 3). Culture of a biopsy sample for fungi, bacteria, and mycobacteria was negative. The results of patch and prick tests were negative.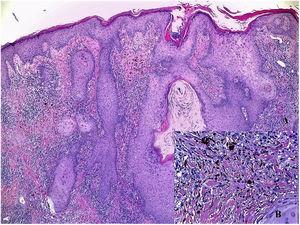 Figure 3.
Histopathological image. A, Epidermal hyperplasia, hyperkeratosis of the corneal layer, and pigment deposition in the superficial dermis accompanied by inflammatory infiltrate (hematoxylin-eosin, original magnification ×4). B, Detail of pigment deposits inside histiocytes and extracellular cells, accompanied by lymphohistiocytic infiltrate (hematoxylin-eosin, original magnification ×40).
(0,23MB).
The patient was diagnosed with pseudoepitheliomatous hyperplasia in skin areas tattooed with red ink.
He began treatment with high-potency topical corticosteroids under occlusion, without improvement. Two subsequent subcutaneous corticosteroid infiltrations slightly improved the pruritus, but had no effect on the lesions. CO2 laser treatment was scheduled, but the patient failed to attend the appointment.
Among complications of tattoos, pseudoepitheliomatous hyperplasia is a rare reaction. It consists of irregular hyperplasia of the epidermis with no atypia and little mitotic activity, accompanied by dermal inflammatory infiltrate with a reactive histological pattern in response to the damage caused.2
Because only isolated cases have been described and a few short series of patients published,2–9 there are limited data on this entity and its response to treatment. Among the cases described, more than half occurred in areas tattooed with red ink. Most, including the present case, occurred within 3 months of receiving the tattoo. This temporal association can aid diagnosis.
It is important to differentiate this lesion from true neoplasms such as squamous cell carcinoma, verrucous carcinoma, keratoacanthoma, and viral warts.9–11
Treatments described include high-potency topical corticosteroids, which were effective in one case,2 and surgical excision (3 patients),8,9 which was not considered in the present case owing to the extent of the lesions. Successful treatment with CO2 laser has been recently reported.7 In several cases, patients have been lost to follow-up.
We present a case of pseudoepitheliomatous hyperplasia as a reaction to red tattoo ink. The literature on this characteristic reaction is scarce. This is the first such case described in Spain, and the first for which accompanying dermoscopic images are provided.
Conflicts of Interest
The authors declare that they have no conflicts of interest.
Please cite this article as: Conejero R, Conejero C, Alcalde V, García-Latasa de Araníbar JA. Hiperplasia seudoepiteliomatosa: una reacción infrecuente de los tatuajes. Actas Dermosifiliogr. 2020;111:896–897.