Texto completo
Post-implantarion erythema (PIE), also named eeticular telangiectatic erythema (RTE), is a local cutaneous reaction that has been mostly described related to the implantation of electronic or metallic devices.1–7 Until now there is only one case described in association with a non-metallic foreign body, in which it was associated to a suture thread.8 Standard treatment consists in observation or device removal. We present a case of PIE that developed after a breast silicone implant, successfully treated with pulsed-dye laser (PDL).
A 31 years-old woman who underwent a breast augmentation surgery with silicone implants developed an erythematous patch with few telangiectasias associated over the left breast 6 months after surgery (Fig. 1A). Skin lesions were completely asymptomatic. The breast affected showed neither warmth nor tenderness.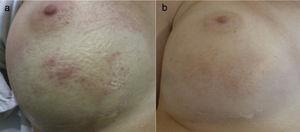 Figure 1.
Clinical presentation. (1) Before pulsed-dye laser treatment. Erythema with telangiectasias associated over the lower half of the right breast. (2) 3 months after pulsed-dye laser. A significant clearance of the erythema can be observed, although a mild hyperpigmentation was associated due to the treatment.
(0,09MB).
Treatment with topical corticosteroids was unsuccessful. A possible contact dermatitis was suspected and patch tests were performed, using a standard TRUE test® and the silicon material of the breast implants, showing negative results. A skin biopsy was performed, showing vascular dilatation surrounded by a mild lymphocytic infiltration (Fig. 2). Given these clinical and histological features a diagnosis of PIE/RTE was rendered.
Treatment with a 595nm PDL (Cynergy; Cynosure Inc, Westford, MA. USA) was initiated (spot size: 10mm; pulse duration: 0,5ms; fluency: 6J/cm2). In total, two sessions of laser with 2-month intervals were performed, with significant clearance of the erythema. A mild temporary hyperpigmentation was also associated that was lightening up during the following visits (Fig. 2). During a follow-up of 4 months the patient has shown stabilization and she was highly satisfied with the results.
Clinically, PIE/RTE presents as asymptomatic blanchable erythematous patches with more or less telangiectasias located on the skin adjacent to a subcutaneous medical device or foreign body. The diagnosis is most often a diagnosis of exclusion supported by the presence of a recently implanted foreign body. Given that the clinical and histological features are variable among the cases described, we believe that the term PIE is more accurate compared to the term RTE, since PIE clearly emphasizes the presence of a foreign body. Since it has been mostly described in patients with implantation of cardiac or other electronic medical devices, heat or even electromagnetic changes were first proposed as its origin.2,3,5 However, a case of RTE associated to non-metallic foreign bodies, (non-absorbable suture thread) has been reported.8 This has led to the hypothesis of microvascular changes caused by a mechanical obstruction surrounding the foreign body as the possible mechanism.8,9 We also support this "microvascular obstruction" hypothesis as the possible trigger in our case. As to our knowledge, the case presented would be the first one of a RTE due to a silicone breast implant.
Management of PIE depends on the patient's needs and the possibility of removing the causing agent. Since it is a benign and asymptomatic reaction, many authors propose to just observe the patient without any treatment.6,8 In the cases reported where the foreign body was removed, PIE was resolved.8 As there might be cases in which RTE can cause an aesthetical impairment, we believe that patients suffering this condition need solutions other than surgery.
Given the vascular nature of PIE, represented by its telangectatic pattern, vascular lasers such as PDL appear to be a logical therapeutic option. Since PDL does not penetrate deeper into tissues than the dermis, we believe that it constitutes a safe treatment even on areas overlying electronic devices such as pacemakers or fragile bodies such as silicon implants. The possibility of reappearance of the PIE is evident, given that the foreign body is still present in this case. However, we consider that even when the lesions reappear, the PDL could still be an useful tool to control this entity avoiding the removal of the foreign body.
In conclusion, PIE/RTE is a local benign cutaneous reaction, related to the presence of a foreign body, metallic or not. We propose laser therapy with PDL as a safe and effective treatment for this entity.
Please cite this article as: Alegre-Sánchez A, Buendía-Castaño D, Fernández-González P, Pérez-García B. Eritema postimplantación asociado a implante mamario tratado con láser de colorante pulsado. Actas Dermosifiliogr. 2018;109:557–558.
Copyright © 2017. Elsevier España, S.L.U. and AEDV