Texto completo
We present the case of a 51-year-old woman diagnosed with Hodgkin Lymphoma two years earlier, who relapsed after treatment with different drug regimes, most recently Brentuximab Vedotin, approved in 2011 by the Food and Drug Administration (FDA). She presented to our outpatient department because of the progressive appearance of multiple asymptomatic papules on her lower limbs, arms and buttocks over the previous two months. Clinical examination showed dispersed non-tender brown-red papules and nodules ranging in size from 3 to 20mm on her legs, arms and buttocks. Lateral compression of the adjacent skin caused retraction of the lesions. (Fig. 1). Skin biopsy of one lesion on the buttocks revealed a typical dermatofibroma structure, with a well-circumscribed proliferation of fibrohistiocytic spindle-shaped cells interspersed among thickened dermal collagen bundles. (Fig. 2)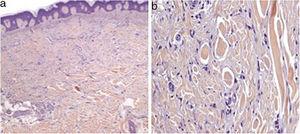 Figure 2.
Multiple dermatofibromas. Histologic examination showing a cellular proliferation of spindled cells in the dermis, with overlying epidermal acanthosis (2a, H&E stain, x 40). Higher magnification shows that the spindle cells entrap normal dermal collagen bundles (2b, H&E stain, x 200).
(0,1MB).
Dermatofibromas (DF) are benign, fibrohistiocytic tumors that usually appear on the legs. While cases of solitary DF are common, multiple eruptive dermatofibromas (MEDF) is little-seen clinical entity in which several DF appear in a short period of time. Baraf and Shapiro defined this condition in 19701 as the appearance of at least 15 dermatofibromas in a short period of time. However, taking into consideration that incipient cases might be missed, the abrupt onset of 5 to 8 dermatofibromas in 4 months has been proposed as sufficient to establish diagnosis. Since its description in 1970, fewer than 100 cases have been reported. Niiyama et al2 reported that the incidence of MEDF is higher in patients with underlying diseases, and more than 80% of cases are related to immune system alterations.3 Therefore, the sudden appearance of MEDF could help early diagnosis of an underlying disease such as human immunodeficiency virus infection or hematological malignancies,4 although authors demonstrated that the number of dermatofibromas is variable and is not related with the rate of immunosuppression. Two cases of MEDF related to Imatinib for hematological diseases have been also described.5 However, some authors suggest that MEDF are an abortive immune process mediated by dermal dendritic cells,6 and, therefore, any drug down-regulating T cells, such as Imatinib in their cases or Brentuximab in activated T-cells in ours, might favor the appearance of multiple DF through an exaggerated response to an unknown pathogen.
In our case, the immunosuppression due to the administration of Brentuximab Vedotin, could had been the key to the development of the disease. However, a direct association between MEDF and the administration of the drug cannot be excluded. The antibody-drug conjugate (ADC) Brentuximab Vedotin comprises a CD30-directed antibody covalently attached to the potent antimicrotubule agent monomethyl auristatin E (MMAE) via a protease-cleavable linker. This treatment results in tumor regression in patients with relapsed or refractory CD30-positive lymphomas.7,8 The most common adverse events are chemotherapy-induced peripheral neuropathy, neutropenia, fatigue, nausea, anemia, thrombocytopenia, upper respiratory tract infection, diarrhea, arthralgia, and pyrexia. Some cases of progressive multifocal leukoencephalopathy (PML) have been reported with the administration of the drug, and its combination with bleomycin is not recommended due to increased risk of pulmonary toxicity.9 To our knowledge, this is the first-time that MEDF has been reported following the use of Brentuximab Vedotin. We suggest a close surveillance of this new drug to describe any other yet unknown adverse events.
Conflicts of Interest
The authors declare that they have no conflicts of interest.
Please cite this article as: Giavedoni P, Combalia A, Pigem R, Mascaró JM. Dermatofibromas eruptivos múltiples en una paciente tratada con brentuximab vedotin. Actas Dermosifiliogr. 2019;110:417–419.
Copyright © 2019. Elsevier España, S.L.U. and AEDV