Texto completo
Clear-cell acanthoma was described by Degos et al.1 in 1962 as a benign epidermal tumor. It usually manifests clinically as a single, slow-growing, dome-shaped reddish papule or nodule with a peripheral desquamating collarette. The surface shows fine desquamation and a vascular pinpoint pattern and it has a tendency to bleed on minimal trauma. Clear-cell acanthoma usually arises on the distal areas of the legs of middle-aged or elderly persons, and its diameter varies between 5 and 20mm.2 However, atypical sites and clinical forms and multiple lesions have been described, and even spontaneous regression.2–4 This, together with its histological characteristics, has led to a discussion of whether it is a benign tumor or reactive hyperplasia secondary to chronic inflammation; even the term clear-cell acanthosis has been proposed.3 Histology is characteristic, with a well-defined area of psoriasiform epidermal hyperplasia, in which the keratinocytes present a pale cytoplasm. There are interposed thick and thin layers, a tendency to acanthosis, particularly centrally, and fusion of the crests. In addition, mild spongiosis is observed, with neutrophil exocytosis, which can lead to the formation of small intraepidermal abscesses and thinning of the suprapapillary surfaces. The surface shows parakeratotic scales. Staining with periodic acid Schiff (PAS) confirms the presence of glycogen in the palisading cells.2 Lesions arising in the areola of the breast have only been reported very rarely.
Our patient was a 74-year-old woman with no family history of interest. Important findings in her personal past history were congenital hypothyroidism, systemic hypertension, dyslipidemia, and an ischemic stroke in 2012. Her long-term treatment included levothyroxine, simvastatin, omeprazole, enalapril, and acetylsalicylic acid. She did not report any personal history of atopic dermatitis or psoriasis. She was seen in dermatology outpatients for the appearance a year earlier of a reddish, exudative, desquamating lesion in the areola of the right breast. The lesion had bled occasionally. She had been treated with various topical corticosteroids, the names of which she did not remember, with no improvement. She had also been seen in the breast pathology unit of our hospital, and a mammography had been performed, which was reported as normal.
Dermatologic examination revealed the presence of a well-defined, desquamating erythematous plaque with a slightly shiny surface in the upper outer quadrant of the areola of the right breast (Fig. 1A). The plaque measured 5×5cm. Biopsy was performed on a clinical suspicion of Paget disease. This showed psoriasiform hyperplasia of the epidermis with neutrophil exocytosis, thinning of the granular layer, and cells with abundant pale cytoplasm (Fig. 2A); PAS staining is shown in Fig. 2B. The findings were compatible with clear-cell acanthoma.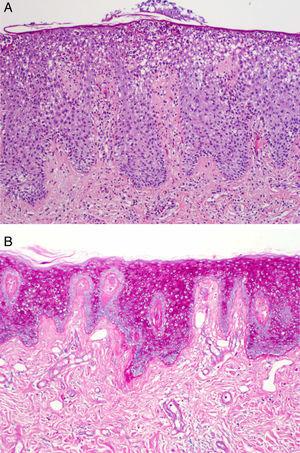 Figure 2.
A, Agranulosis, spongiosis, and neutrophil exocytosis with subcorneal microabscesses and sheets of parakeratosis. Hematoxylin and eosin, original magnification×100. B, Cells with abundant, clear, periodic acid Schiff-positive cytoplasm. Periodic acid Schiff, original magnification×80.
(0,52MB).
Given the benign and asymptomatic nature of the lesion, we decided jointly with the patient and her family to adopt a wait-and-see approach. Treatment was started with 0.1% gentamicin sulfate plus 0.05% betamethasone dipropionate cream twice a day for 3 weeks. This achieved a marked improvement, and the treatment was therefore reduced to a single application twice a week, leading to complete resolution of the lesion after 6 months of treatment (Fig. 1B). No recurrence was observed in the 6 months after the interruption of treatment. The patient has not developed any other skin lesions during follow-up.
The first reported case of clear-cell acanthoma localized in the areola was published by Kim et al.5 in 1999; their patient, who had a history of atopic dermatitis, presented with eczema. Since that time only 7 other cases of clear-cell acanthoma localized in the nipple or areola have been reported.6–9 All have presented as eczematous lesions, except for the one published by Park et al.,8 which had a polypoid morphology. A history of atopy was found in 4 patients, including our patient, though other previous or concomitant dermatoses were not reported.5–8 There is a clear female predominance at this site, with only 1 case occurring in a 26-year-old man.7 The size of the lesions varied between 2×2cm and 4×4cm.6,9 The preferred treatment options have been surgery and cryotherapy, and no recurrences have been observed. Four cases, including the one we report, were treated with corticosteroids, observing complete resolution in our patient and in 1 patient who used 0.5% clobetasol cream twice a day for several weeks.7,9
In conclusion, we have presented a new case of clear-cell acanthoma in the areola and nipple, a rare site. We draw attention to the need to include this entity in the differential diagnosis of long-standing eczematous lesions of the nipple. The remission observed with a high-potency topical corticosteroid is a finding that supports the idea that clear-cell acanthoma may be a reactive process of the epidermis.
Conflicts of Interest
The authors declare that they have no conflicts of interest.
Please cite this article as: Hidalgo-García Y, Gonzálvo P, Mallo-García S, Fernández-Sánchez C. Acantoma de células claras de la aréola y el pezón. Actas Dermosifiliogr. 2016;107:793–795.
Copyright © 2016. Elsevier España, S.L.U. and AEDV