Texto completo
To the Editor:
Scleredema belongs to the diffuse cutaneous mucinosis group of disorders. It is also known as adult scleredema or Buschke scleredema, after the dermatologist who first described it in 1902 in a patient with the classic manifestations of the disease. It is considered a rare disease and its prevalence is unknown. No race-or sex-related differences in prevalence have been reported, and it has been described in both pediatric and adult populations.
A 62-year-old man with a personal history of long-standing hypertension, dyslipidemia, and type II diabetes mellitus with good metabolic control was initially evaluated in the digestive system unit for dysphagia for solids that had begun several months earlier. Endoscopy had been performed, but showed no evidence of disease. However, a subsequent cervical thoracic abdominal pelvic computed tomography (CT) scan revealed edema of cervical, axillary, and thoracic subcutaneous cellular tissue. The patient was admitted to the internal medicine unit. Examination revealed diffuse skin induration in the cervical region, shoulders, back, and buttocks (Fig. 1B).
Blood tests showed an increase in free lambda chains (570 mg/L) and immunofixation revealed a monoclonal component. The pathological examination revealed no epidermal lesions and diffuse thickening in the middle and deep dermis, with an increase in mucopolysaccharides between collagen bundles and an absence of inflammatory infiltrate (Fig. 2B).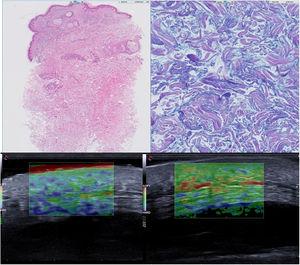 Figure 2.
A, Diffuse thickening at the level of the middle and deep dermis, focally spreading to the hypodermis (hematoxylin-eosin, original magnification ×10). B, Increase in mucopolysaccharides between collagen fibers (Alcian blue–periodic acid-Schiff, original magnification ×20). C, Elastography before ultraviolet A1 therapy. D, Elastography after ultraviolet A1 therapy.
(0,35MB).
Once the suspected diagnosis of adult scleredema was confirmed, different treatments were performed successively, without response, and the patient's clinical signs progressively worsened, hindering the full range of movements involving the shoulder and pelvic girdles. The treatments administered included the following: prednisone (tapering dose starting at 40 mg/d); methotrexate (15 mg/wk for 4 months); methylprednisolone (6 pulses of 500 mg); intravenous immunoglobulin (3 g/wk for 3 cycles, with little improvement); and cyclophosphamide.
Treatment was started with ultraviolet A1 (UV-A1; UVA 302 L lamp, Waldmann®, Villingen-Schwenningen, Germany) at an initial dose of 5 J/cm2, increasing in 10% increments up to a maximum dose of 20 J/cm2, administered in 3 sessions per week for a total of 28 sessions (cumulative dose, 291.09 J/cm2). This regimen had no adverse effects and resulted in improvements in dysphagia and mobility and a reduction in skin stiffness on the neck but not the buttocks. Comparison of pre- and post-treatment elastography findings showed a decrease in skin stiffness (Fig. 2C and D).
Scleredema in adults is a rare disease of the connective tissue, the clinical presentation of which depends on the disease with which it is associated.1 Scleredema associated with diabetes mellitus is considered the most common form, and affects obese adults with poorly controlled and advanced diabetes. It begins insidiously, typically affecting the posterior area of the neck and thorax, sparing the extremities. Scleredema associated with a monoclonal gammopathy is the least common form. The clinical presentation is similar to that described in diabetes mellitus patients, but the disease course is variable: spontaneous resolution has been described in some cases, while in others the disease can be refractory to treatment and can become chronic. In our patient, we identified 2 well-established clinical and etiological factors.
Scleredema appears to be caused by irreversible collagen glycosylation in the diabetes mellitus-associated form, sensitization to collagen in the form associated with streptococcal infection, and chronic immune stimulation in the form associated with monoclonal gammopathy.2
Treatment poses a real challenge for the clinician. Treatment with immunosuppressants, intravenous immunoglobulins,3 and extracorporeal photopheresis4 has been described, with variable responses. However, phototherapy has always been considered a fundamental component of the treatment of adult scleredema. Due to its lower cost, greater accessibility, and, according to some authors, faster treatment response compared with other types of phototherapy,5 narrowband ultraviolet B (UV-B) has been the most commonly used modality.
UV-A1 phototherapy (340–400 nm) appears to offer a better response and lower rates of recurrence, as described in the cases listed in Table 1.6–9 Initially used by Janiga in 2004 for the treatment of scleredema,6 it has also been used to treat atopic dermatitis and localized scleroderma, among other conditions. The mechanisms underlying this treatment include T lymphocyte apoptosis and stimulation of matrix metalloproteinase-collagenase synthesis by dermal fibroblasts. This phototherapy modality involves longer wavelengths that penetrate deeper into the dermis, and depending on the phototype and dose administered may cause less erythema and reduce the risk of burns. The use of low doses, as in our patient, provides a good response. The main advantages are short treatment cycles with rapid results and the possibility of improvement several months after a treatment cycle, although maintenance phototherapy is not currently recommended.
Table 1.
Main Characteristics of Scleredema Patients Treated With Ultraviolet A1
Patient 
Age/Sex 
Initial Dose, J/cm

2

 
Total Dose, J/cm

2

 
Results 
Scleredema Type 
1 
43/M 
10 
585 
Improvement after 8 sessions. No recurrence after 16 weeks 
Adult 
2 
72/F 
10 
NA 
Improvement after 15 sessions. No recurrence after 4 months 
Diabetes 
3 
51/M 
50 
1,750 
Improvement after 10 weeks 
Diabetes 
4 
55/M 
90 
NA 
Improvement after 4 weeks 
Diabetes 
5 
57/M 
50 
NA 
Mild improvement after 4 weeks 
Diabetes 
6 
51/M 
35 
1,400 
Significant reduction 
Diabetes 
7 
66/M 
60 
1,460 
Significant reduction 
Diabetes 
8 
52/M 
35 
1,400 
Significant reduction 
Diabetes 
9 
65/M 
60 
2,400 
Improvement after 7 sessions. No recurrence after 2 years 
Diabetes 
10 
40/M 
60 
1,800 
Improvement after 8 sessions. Recurrence after 10 months, 2nd course effective 
Diabetes 
Abbreviations: F, female; M, male; NA, not applicable.
Funding
This work has not received any type of funding.
Conflicts of Interest
The authors declare that they have no conflicts of interest.
Please cite this article as: L. Linares-González, T. Ródenas-Herranz, J.L. Espelt-Otero et al., Escleredema de Buschke refractario a terapia convencional. Respuesta a UVA1, ACTAS Dermo-Sifiliográficas, 2021;112:466–468.