Full Text
Tuberculosis is a global pandemic. According to the World Health Organization, a third of the world's population is infected with tuberculosis bacilli. Cutaneous tuberculosis accounts for approximately 1.5% of all extrapulmonary tuberculosis cases,1 with lupus vulgaris being the most common subtype in industrialized countries.2Mycobacterium tuberculosis is the main causative agent of lupus vulgaris. However, the disease can also be caused by Mycobacterium bovis or bacillus Calmette-Guérin (BCG),3 an attenuated strain of M bovis used in vaccines. We present a case of lupus vulgaris caused by M bovis, currently a very rare entity.
The patient was a 78-year-old man, originally from a town in the province of Burgos (Spain), with no relevant personal history. He presented with a skin lesion on the left axilla that had begun to itch 4 years earlier but had first appeared during childhood. Physical examination revealed a brownish erythematous plaque measuring 9.5×6cm on the posterior aspect of the left axilla, with an atrophic center, raised borders, and telangiectasias (Fig. 1). Classic apple-jelly nodules were observed on diascopy. Physical examination revealed a palpable lymph node in the ipsilateral axilla but was otherwise normal. Skin biopsy revealed a dermal infiltrate composed of confluent nonnecrotizing epithelioid granulomas with lymphocytic coronas and multinucleated giant cells (Fig. 2A and B).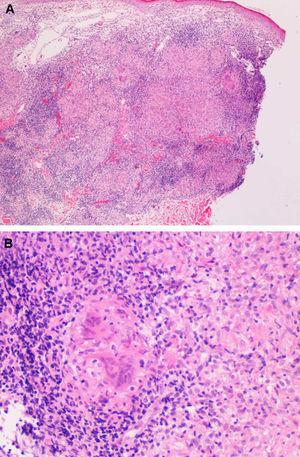 Figure 2.
A, Low-power view of the biopsy specimen, showing a dense granulomatous infiltrate in the middle dermis that becomes less severe in the deep dermis (hematoxylin-eosin, original magnification ×40). B, Detail of a noncaseating granuloma with lymphocytic corona and multinucleated giant cells (hematoxylin-eosin, original magnification ×200).
(0.49MB).
Ziehl-Neelsen staining was positive for acid-fast bacilli and skin culture was positive for M bovis. Axillary ultrasound revealed an inflammatory lymph node that resolved with treatment. A chest radiograph was normal and a Mantoux test was positive (1cm). The patient was diagnosed with tuberculous lymphadenopathy and lupus vulgaris due to M bovis. He was prescribed a 2-month regimen of tuberculostatic triple-drug therapy with isoniazid, rifampicin, and pyrazinamide, followed by 4 months of therapy with isoniazid and rifampicin. At the end of treatment, an asymptomatic, cicatricial, anetodermic lesion remained.
Lupus vulgaris is a chronic, progressive form of cutaneous tuberculosis. It is usually caused by M tuberculosis, but cases caused by M bovis and BCG have also been reported. It generally affects previously sensitized patients, who have a delayed, strongly positive hypersensitivity reaction to the tuberculin skin test. The skin lesions are caused by hematogenous or lymphatic dissemination from, or contiguity with, a primary focus in another organ.3 Occasionally, lupus vulgaris develops after vaccination with BCG or direct inoculation.4,5 An important feature of the disease is that it can lead to the formation of scars, which may cause contractures and deformities. In long-standing cases, lupus vulgaris may progress to squamous cell carcinoma.1
The clinical differential diagnosis for lupus vulgaris includes sarcoidosis, lymphocytoma, discoid lupus erythematosus, tertiary syphilis, deep fungal infection, and lupoid leishmaniasis. The histologic differential diagnosis includes sarcoidosis, tuberculoid leprosy, deep fungal infection, and foreign body reaction.6
Definitive diagnosis is established by culture, although a positive result is obtained in less than 10% of cases. Ziehl-Neelsen staining of biopsy specimens can also yield false negative results due to the paucibacillary nature of lupus vulgaris. In such cases, mycobacterial DNA can be identified by means of polymerase chain reaction.2,6
Lupus vulgaris caused by M bovis is currently very rare. Though clinically indistinguishable from lupus vulgaris caused by M tuberculosis,7 lupus vulgaris due to M bovis usually appears after contact with infected animals or ingestion of contaminated milk; dissemination from a pulmonary focus is less common. Mycobacterium bovis is a member of the M tuberculosis complex, which includes the species M tuberculosis, M bovis, Mycobacterium africanum, Mycobacterium microti, and Mycobacterium canetti,8 the causative agents of tuberculosis in humans and animals.
Our review of the literature identified 4 cases of lupus vulgaris caused by M bovis in the past 20 years (Table 1). In 2005, Meyer et al.3 described the case of a 69 year-old woman who had contracted pulmonary tuberculosis as a child. In 2009, Tar et al.7 and Flohr et al.9 presented cases of patients suspected of having been infected with M bovis through contact with cattle or by ingesting unpasteurized milk. In 2010, Twomey et al.10 described a case of occupational infection with M bovis in a veterinarian.
Table 1.
Cases of Lupus Vulgaris Caused by Mycobacterium bovis Reported in the Past 20 Years.
Reference 
Sex (Age, y) 
Environment 
Clinical Course 
History of Tuberculosis 
Meyer et al.

3

 
Female (69) 
Bavaria, southern Germany 
10 years 
Pulmonary tuberculosis during childhood 
Tar et al.

7

 
Female (33) 
Rural area (in contact with livestock) 
20 years 
None 
Flohr et al.

9

 
Male (67) 
City of Nottingham 
Since childhood 
None 
Twomey et al.

10

 
Female (25) 
Veterinary practice 
9 weeks 
None 
As a result of efforts to eradicate bovine tuberculosis and due to the prevalence of milk pasteurization,9 lupus vulgaris caused by M bovis is now very rare. Nevertheless, it should be considered, primarily in patients who live in rural areas or work in high-risk occupations such as livestock rearing or veterinary medicine.10
In conclusion, we present a case of lupus vulgaris caused by M bovis, now regarded as a very rare pathogen. This case involved a considerable delay in diagnosis, as the lesion had been present since childhood.
Please cite this article as: Jaka-Moreno A, et al. Lupus vulgar causado por Mycobacterium bovis. Actas Dermosifiliogr. 2012;103:251–3.
Copyright © 2011. Elsevier España, S.L. and AEDV