Full Text
Hand-foot-and-mouth disease (HFMD)is an exanthematic disease that predominantly affects children.1 The classic form presents with fever, small vesicles on the hands and feet, and oropharyngeal erosions with a self-limited course.2 In recent years, atypical forms of the disease have acquired clinical and epidemiological importance. These are characterized by a wide array of clinical presentations, unusual distribution, and greater severity than the classic forms.3
We report 2 cases of adults diagnosed with atypical, vesicular-bullous HFMD caused by Coxsackievirus A6. The epidemiological, clinical (Fig. 1) and histological (Fig. 2) data, as well as the course and treatment of both patients are shown in Table 1.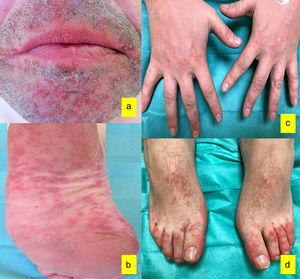 Figure 1.
Case 1 clinical presentation: A, Honey-colored crusts around the mouth; B, Erythematous macules on the soles of the feet. Case 2 clinical presentation: C, erythematous papules on the dorsum of the hands; D, Isolated and confluent erythematous papules on the dorsum of both feet with a distal distribution.
(0.61MB).
Table 1.
Characteristics of the 2 Cases of Atypical Hand-Foot-Mouth Disease.
 
Case 1 
Case 2 
Age, y 
58 
24 
Sex 
Male 
Male 
Medical history 
None of interest 
None of interest 
General symptoms 
Fever and odynophagia 
Low-grade fever 
Skin lesions 
Erythematous-violaceous papules with vesiculation
Non-metmeric, honey-colored, patchy serous crusts 
Erythematous-violaceous vesiculated papules on the skin surface
Pseudo target lesions 
Distribution 
Palms, soles, dorsum of hands, distal region of forearms and perioral region 
Palms, soles, and dorsum of the hands and feet 
Mucosal involvement 
Petechiae on the palate 
Pharyngeal erythema 
Serotype

a

 

Coxsackievirus

A6 

Coxsackievirus

A6 
Biopsy 
Yes: spongiosis, basal membrane degeneration, isolated epidermal necrosis, and perivascular lymphocytic infiltrate. 
No 
Treatment 
Topical corticosteroids and oral antihistamines
Crust removal and oral amoxicillin-clavulanic acid 875 mg/8 h for 10 days

b

 
Topical corticosteroids and oral antihistamines 
Anonychia 
No 
No 
Other late Manifestations 
Acral desquamation 
Acral desquamation 
HFMD is a common, self-limited disease generally associated with infection with Coxsackievirus A16 or Enterovirus A71.4 However, these serotypes have been responsible for epidemic outbreaks of HFMD and have been associated with fatal complications, including encephalitis and acute non-cardiogenic pulmonary edema. Recent years have seen the emergence of enteroviruses with scant dermal tropism associated with serious respiratory and neurological conditions (Coxsackievirus D68 and D70), and serotypes that cause atypical HFMD have become more prominent (Coxsackievirus A6).1,6
HFMD is more common in summer and predominantly affects children under 5 years of age.1,2 Symptomatic skin infection with these viruses is unusual in adults,7 probably because of immune memory due to past infections or cross immunity with other enteroviruses.1 Diagnosis of these infections in older adults is usually associated with atypical variants and more virulent serotypes, such as Coxsackievirus A6.5,8
Classic HFMD is characterized by fever accompanied by small vesicles and erosions that affect the oral mucosa, hands, feet, and buttocks and resolve in 7-10 days without scarring.2,3,5,8 Systemic complications such as poliomyelitis, myocarditis, and meningeal syndrome are exceptional.6 Atypical forms usually occur in adults and present with fever, vesicular-bullous lesions, erosions, and scabs affecting over 5% of the body surface area. Lesion distribution is predominantly acral and there is often involvement of the scalp and perioral region (but little intraoral involvement).7 During the course of the disease, lesions may affect the neck, trunk, forearms, or legs.3,4,8
To date, 4 atypical forms of HFMD have been reported: coxsackium eczema (vesicles and erosions in areas of atopic eczema); an eruption similar to that of Gianotti-Crosti syndrome (papulovesicles and erosions on the cheeks, buttocks, and extensor regions but sparing the trunk); a petachial and purpuric form (predominantly acral in patients over 5 years of age); and the vesicular-bullous variant described in this case. Late skin manifestations include onychomadesis, Beau's lines, and acral scaling.2–4
Diagnosis is clinical. The infection can be confirmed by analysis of skin vesicle content using reverse transcriptase polymerase chain reaction (RT-PCR). In samples of pharyngeal exudate, the viral load is often lower but such samples can remain positive for several weeks.2–4
Histologic findings include spongiosis with intraepidermal vesiculation, neutrophil exocytosis, pale and necrotic keratinocytes, and occasionally phantom cells. In the dermis, edema and a predominantly lymphocytic inflammatory infiltrate with granulysin expression can be observed, but not viral inclusion bodies or giant cells.9,10
Atypical forms of HFMD may mimic other viral diseases, (herpetic infections, Gianotti-Crosti syndrome, purpuric glove and sock syndrome), other types of infections (syphilis, blistering impetigo, erythema multiforme), and adverse drug reactions.4
Given the self-limited nature of HFMD, in most cases the clinical care required is symptomatic treatment to keep the skin hydrated and pain control if necessary. Hand hygiene measures should be recommended. When there is evidence of superinfection, this should be treated.2,4
In summary, we report 2 cases of atypical HFMD. The incidence of atypical HFMD is increasing. These variants are more prevalent among adults and the resulting disease is more severe. HFMD should therefore be suspected and included in the differential diagnosis of a patient presenting with fever, vesicular-bullous lesions, erosions, and crusts on the palms and soles or around the mouth.
Conflicts of Interest
The authors declare no conflicts of interest.
Please cite this article as: Iglesias-Puzas Á, Batalla A, Trigo M, Flórez Á. Atypical Vesicular-Bullous Hand-Foot-Mouth Disease in 2 Adults. Actas Dermosifiliogr. 2018;109:567–569.
Copyright © 2017. Elsevier España, S.L.U. and AEDV