Article information
Abstract
Full Text
Bibliography
Download PDF
Statistics
Abstract
Zika virus infection should be suspected in travelers or immigrants with the signs or symptoms of a viral infection (rash, fever, joint pains, conjunctivitis, headache, etc.) and a compatible epidemiological history. Although cutaneous manifestations are among the most common clinical signs of Zika, they are not specific and very few images are available. We present 3 patients (2 travelers and 1 immigrant) in whom a rash was the presenting manifestation of Zika virus infection. Prompt diagnosis optimizes outcomes in these patients, improves the management of severe disease, and minimizes the risk of local transmission by Aedes albopictus, now a potential local vector for the virus due to its presence in areas along Spain's Mediterranean coast.
Keywords:
Zika virus
Skin
Dermatosis
Imported diseases
Rash
Travelers
Resumen
La infección por el virus Zika debe sospecharse en viajeros o inmigrantes con clínica de viriasis (exantema, fiebre, artralgias, artritis, conjuntivitis, cefalea, etc.) y una historia epidemiológica compatible. Aunque las manifestaciones cutáneas se encuentran entre las más frecuentes no son específicas y su iconografía es escasa. Presentamos 3 casos, 2 viajeros y un inmigrante que comienzan con un exantema por virus Zika. Alcanzar el diagnóstico de forma rápida optimiza el manejo de estos pacientes, mejora el control de los casos graves y permite minimizar una posible transmisión autóctona dado el riesgo que supone la presencia del Aedes albopictus como potencial vector transmisor de esta enfermedad en el litoral mediterráneo español.
Palabras clave:
Virus Zika
Piel
Dermatosis
Enfermedades importadas
Exantema
Viajeros
Article
These are the options to access the full texts of the publication Actas Dermo-Sifiliográficas (English Edition)
Subscribe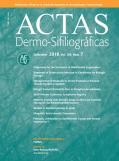 Subscribe to
Actas Dermo-Sifiliográficas (English Edition)
Contact
Telephone
From Monday to Friday from 9 a.m. to 6 p.m. (GMT + 1) except for the months of July and August which will be from 9 a.m. to 3 p.m.
Calls from Spain
902 88 87 40
Calls from outside Spain
+34 932 418 800
E-mail