Article information
Abstract
Full Text
Bibliography
Download PDF
Statistics
Abstract
Background
Actinic keratoses (AKs) are common skin lesions associated with an increased risk of developing squamous cell carcinoma. Few studies in Europe have focused on AK prevalence.
Aim
To determine the point prevalence of AKs in a dermatology outpatient population in Spain, to describe the clinical characteristics of these lesions and to characterise the profile of AK patients.
Methods
Observational, cross-sectional, multicentre study conducted in 19 hospitals (dermatology outpatient services) around Spain. A total of 204 consecutive patients per hospital who were ≥45 years old were screened for the presence of AKs.
Results
3877 patients were assessed and the overall AKs prevalence was 28.6%. Prevalence was significantly higher in men than women (38.4% vs. 20.8%, p<0.0001) and increased with age for both sexes (45.2% in 71–80 years). Scalp and ear lesion locations were significantly more frequent in men (51.9% vs. 2.7% and 16.9% vs. 2.4%, respectively, p<0.0001 both cases) and the cheek, nose and neckline in women (46.3% vs. 34.0% [p<0.0001], 43.0% vs. 24.8% [p<0.0001] and 5.3% vs. 1.8% [p=0.002]). Men showed a significantly higher frequency of ≥2 affected areas than women (42.7% vs. 20.3%, p<0.0001). Among patients with AK lesions, only 65% confirmed that they were the reason for the visit to the clinic.
Conclusions
Approximately a quarter of the dermatology outpatient population in Spain aged ≥45 years old have AKs, with the prevalence rate being highest in men and in older age groups. AK is underdiagnosed and a proactive strategy is needed for the diagnosis and early treatment of these lesions.
Keywords:
Actinic keratosis
Prevalence
Skin lesions
Outpatient population
Spain
Resumen
Antecedentes
Las queratosis actínicas (QA) son lesiones cutáneas comunes asociadas a un mayor riesgo de desarrollar carcinoma de células escamosas. Hay pocos estudios en Europa sobre la prevalencia de QA.
Objetivos
Determinar la prevalencia de QA en una población de pacientes ambulatorios dermatológicos en España y describir las características clínicas de los pacientes con QA.
Métodos
Estudio observacional, transversal, multicéntrico (19 hospitales, servicios de consultas externas de dermatología) en España. Se incluyeron 204 pacientes consecutivamente por centro, edad ≥45 años y se determinó la presencia de QA.
Resultados
Se evaluaron 3.877 pacientes. La prevalencia de QA fue de 28,6% y esta fue más alta en hombres que en mujeres (38,4% vs. 20,8%, p<0,0001), incrementándose con la edad en ambos sexos (45,2%, 71-80 años). Las lesiones en el cuero cabelludo y en la oreja fueron más frecuentes en hombres (51,9% vs. 2,7% y 16,9% vs. 2,4%, respectivamente, p<0,0001 ambos casos) y la mejilla, la nariz y el escote en mujeres (46,3% vs. 34,0% [p<0,0001], 43,0% vs. 24,8% [p<0,0001] y 5,3% vs. 1,8% [p=0,002]). Los hombres presentaron una mayor frecuencia de ≥2 zonas afectadas vs. mujeres (42,7% vs. 20,3%, p<0,0001). Entre los pacientes con QA solo el 65% confirmó que esta era el motivo de la visita.
Conclusiones
Aproximadamente una cuarta parte de la población ambulatoria de dermatología en España ≥45 años presenta alguna QA, con una prevalencia más alta en los hombres y los grupos de mayor edad. La QA está infradiagnosticada y se requiere de una estrategia proactiva para el diagnóstico precoz y el tratamiento.
Palabras clave:
Queratosis actínica
Prevalencia
Lesiones cutáneas
Población ambulatoria
España
Article
These are the options to access the full texts of the publication Actas Dermo-Sifiliográficas (English Edition)
Subscribe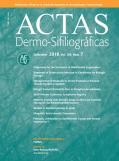 Subscribe to
Actas Dermo-Sifiliográficas (English Edition)
Contact
Telephone
From Monday to Friday from 9 a.m. to 6 p.m. (GMT + 1) except for the months of July and August which will be from 9 a.m. to 3 p.m.
Calls from Spain
902 88 87 40
Calls from outside Spain
+34 932 418 800
E-mail