Full Text
To the Editor:
Halo alopecia is a form of childhood alopecia associated with caput succedaneum during childbirth. There are few described cases of halo alopecia associated with erosive pustular dermatosis of the scalp (EPDS). We present a new case of halo alopecia complicated by EPDS, and describe the corresponding ultrasound findings and treatment.
Case Description
The patient was a 5-month-old girl who presented with annular alopecia of the scalp that had appeared during the first weeks of life. She was born at 36 weeks of gestation, 2 weeks after premature rupture of the membranes. She was delivered by caesarean section due to fetal distress during labor, with no other complications except for a large caput succedaneum in the parietal area. This edema disappeared over the following days and an alopecic plaque formed around the affected area.
Physical examination revealed a ring-like alopecic plaque, parts of which had a cicatricial appearance, around the entire cranial circumference (Fig. 1A). Persistent crusts suggestive of EPDS were located in the frontoparietal area (Fig. 1B).
Ultrasound with a linear probe (22MHz) revealed thinning of the scalp in the cicatricial areas (Fig. 2, left) relative to the healthy scalp (Fig. 2, right). This thinning was due mainly to loss and structural alteration of the adipose tissue. There were no follicles, and no active inflammation in color Doppler mode.
Biopsy of the alopecic area showed a fibrotic dermis with dense scar collagen (Fig. 3A) and a broken hair follicle (Fig. 3B) that was surrounded by multinucleated giant cells suggestive of a foreign body reaction (Fig. 3C).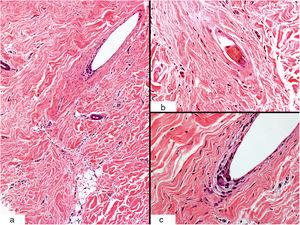 Figure 3.
Histological characteristics (hematoxylin-eosin staining). A, Sclerotic dermis with dense collagen and a scar-like appearance (original magnification ×10). B, Detail of a broken hair follicle (original magnification ×40). C, Peripheral multinucleated giant cells (original magnification ×40).
(0.63MB).
After 2 years of follow-up hair had partially regrown, but an area of cicatricial alopecia remained in the frontoparietal region, where crusted plaques persisted despite therapy with topical and oral antibiotics and topical corticosteroids. Chemical debridement of the erosive areas with a collagenase ointment and silicone gel ultimately resulted in resolution of the crusted plaques.
Comment
Intense or prolonged pressure on the scalp by the maternal pelvis during childbirth can cause caput succedaneum. In some cases this is accompanied by hypoxic-ischemic damage resulting in annular hair loss around the edematous area. Halo alopecia usually fully resolves within months or years, although it is important to inform parents of the possibility of permanent cicatricial plaques in cases involving more severe ischemic damage.1
There are no descriptions in the literature of ultrasound findings in patients with halo alopecia. In our case ultrasound revealed thinning of the hypodermis, as evidenced by a homogeneous, hyperechoic band without internal septa. No hair follicles were observed within the alopecic area, and inflammation was absent on color Doppler imaging. These findings are consistent with those reported by Wortsman et al. in patients with inflammatory cicatricial alopecia.2 It is important to emphasize that the ultrasound findings in inflammatory alopecia will depend on disease activity: in phases of active inflammation the scalp may appear thicker, with hypoechogenic subcutaneous tissue and increased vascularization on color Doppler imaging.
Siegel et al.3 described 3 cases of infants with halo alopecia and pustules and scabs suggestive of EPDS (Table 1). This is a rare condition, characterized by the appearance of pustules, erosions, and crusts on the alopecic scalp. Although the precise cause is unknown, it has been associated with local trauma, burns, and aggressive treatments such as cryotherapy and photodynamic therapy, and can occur after surgery. This condition is particularly rare in children. It is possible that ischemic damage during childbirth is responsible for the subsequent appearance of these pustules and scabs.
Table 1.
Cases of Halo Alopecia Associated With Erosive Pustular Dermatosis of the Scalp
Study 
Case 
Sex 
Gestational Age 
Type of Delivery 
Premature Rupture of Membranes 
Age of EPDS Onset 
Treatments 
Siegel et al.

3

 
Case 1 
F 
36 wk 
Caesarean section due to failure to progress 
Yes 
6 mo 
Debridement 
 
 
 
 
 
 
 
Oral antibiotic 
 
 
 
 
 
 
 
Topical antifungal 
 
 
 
 
 
 
 
Topical corticosteroids 
Siegel et al.

3

 
Case 2 
F 
36 wk 
Caesarean section due to failure to progress and failed vacuum extraction 
No 
2 mo 
Oral antibiotic 
 
 
 
 
 
 
 
Topical corticosteroids 
Siegel et al.

3

 
Case 3 
F 
33 wk 
Vaginal delivery 
Yes 
From birth 
Astringent solution 
 
 
 
 
 
 
 
Topical and oral antibiotic 
 
 
 
 
 
 
 
Topical antifungal 
 
 
 
 
 
 
 
Topical corticosteroids 
 
 
 
 
 
 
 
Surgery of alopecic plaque 
 
Present case 
F 
36 wk 
Caesarean section due to failure to progress and fetal distress 
Yes 
5 mo 
Topical and oral antibiotic 
 
 
 
 
 
 
 
Topical corticosteroids 
 
 
 
 
 
 
 
Chemical debridement (collagenase ointment) and occlusion (silicone gel) 
Abbreviations: EPDS, erosive pustular dermatosis of the scalp; F, female.
Given its low incidence, there is little information in the literature regarding the treatment of EPDS in children. Typically, EPDS does not respond to treatment with antibiotics or corticosteroids, either topical or oral. In our case we ultimately opted for chemical debridement and subsequent daily application of silicone gel, with excellent results and no side effects. These results are consistent with those reported in the adult population by Uva et al.4
We present the case of a girl with halo alopecia, a rare but highly characteristic entity, and describe the corresponding ultrasound findings. This is the fifth reported case of childhood EPDS after caput succedaneum. This complication poses an additional challenge to the management of these patients.
Conflicts of Interest
The authors declare that they have no conflicts of interest.
Acknowledgments
The authors thank doctors Gastón Roustán Gullón, María Dolores Suárez Massa, and María Dolores Mendoza Cembranos for their collaboration.
Please cite this article as: Macías del Toro E, González Domingo MA, Alfageme Roldán F. Bebé con alopecia anular y costras persistentes. Actas Dermosifiliogr. 2020;111:78–80.