Article information
Abstract
Full Text
Bibliography
Download PDF
Statistics
Tables (3)
Table 1. Standard treatment protocol for NBUVB (311±2nm). The starting dose was 0.15J/cm2 followed by a 20% incremental dosage. The total number of courses of treatment was eight and the final dose was 0.53J/cm2. The treatment was administered twice a week, during four weeks.
Table 2. Response to treatment regarding discrete variables: sex, levels of vitamin D, ANAs, result of phototest, month of treatment and medication taken after desensitization treatment.

Table 3. Response to treatment regarding time of evolution. An association between the time since the onset of PLE and the response to the desensitization treatment was found, being better responders those who had a short lasting disease.
Abstract
Introduction
Polymorphic light eruption (PLE) is a common idiopathic photodermatosis that typically presents with pruritic papular or papulovesicular lesions on sun-exposed skin between spring and autumn. In many subjects PLE is mild, and can usually be prevented by the use of broad-spectrum topical sunscreens and a gradual increase in sunlight exposure. However, in some individuals, sunlight exposure results in florid PLE and they often benefit from prophylactic desensitization treatment using phototherapy in early spring, an artificial method that induces a "hardening" phenomenon.
Objective
To describe and evaluate the efficacy of a short desensitization protocol, based on a one-month-treatment, administered twice a week with narrow band UVB in subjects with severe polymorphic light eruption (PLE).
Methods
A retrospective, open planned and non-randomized study to assess the efficacy of UVB phototherapy in prevention of polymorphic light eruption.
Results
Fifteen subjects diagnosed with severe PLE were treated with the standard protocol in our Photobiology Unit between 2014 and 2015. The effect of hardening was sustained during follow up in 87.5% of desensitization treatments. A statistically significant association (p<0.05) between the years of duration of the PLE and the response to treatment was found.
Conclusions
The effect of hardening was maintained in the vast majority of subjects, obtaining a good benefit with no PLE episodes during all the summer. We demonstrate that our standard protocol is effective, and produces a successful outcome for the majority of PLE subjects. Our protocol is shorter than those currently applied, being favourable both for the patient and the physician.
Keywords:
Polymorphic light eruption
Narrow-band UVB
NBUVB
Desensitization
Hardening
Resumen
Introducción
La erupción polimorfa lumínica (EPL) es una fotodermatosis idiopática que se presenta típicamente en forma de lesiones papulares o pápulo-vesiculosas pruriginosas en áreas fotoexpuestas, típicamente entre primavera y otoño. En la mayoría de pacientes la EPL es leve, y se previene mediante el uso de fotoprotectores y una exposición gradual a la luz solar. En algunos casos la EPL es muy florida, y requiere una desensibilización profiláctica en primavera, que induce fenómeno de hardening.
Objetivo
Describir y evaluar la eficacia de un protocolo de desensibilización que se basa en la administración de UVB de banda estrecha, 2 veces a la semana, durante un mes.
Resultados
Se trataron un total de 15 sujetos con el protocolo de desensibilización entre los años 2014 y 2015. Se realizaron un total de 24 tratamientos. El efecto hardening se mantuvo en el 87,5% de los casos tratados. Se encontró una asociación estadísticamente significativa (p<0,05) entre los años de progresión de la enfermedad y la respuesta al tratamiento.
Conclusiones
Los efectos del hardening se mantuvieron en la mayoría de los sujetos, los cuales presentaron un buen control de la EPL y ausencia de brotes durante el verano. Se demuestra la efectividad del protocolo de desensibilización en los sujetos con EPL, el cual tiene una duración más corta que los previamente descritos en la literatura.
Palabras clave:
Erupción polimorfa lumínica
UVB de banda estrecha
NBUVB
Desensibilización
Hardening
Article
These are the options to access the full texts of the publication Actas Dermo-Sifiliográficas (English Edition)
Subscribe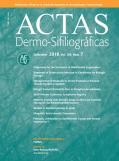 Subscribe to
Actas Dermo-Sifiliográficas (English Edition)
Contact
Telephone
From Monday to Friday from 9 a.m. to 6 p.m. (GMT + 1) except for the months of July and August which will be from 9 a.m. to 3 p.m.
Calls from Spain
902 88 87 40
Calls from outside Spain
+34 932 418 800
E-mail