Article information
Abstract
Full Text
Bibliography
Download PDF
Statistics
Abstract
Introduction
Chronic graft-versus-host disease (cGVHD) is the most important cause of late non-relapse mortality after allogeneic hematopoietic stem cell transplantation. Sclerodermatous cGVHD is usually steroid refractory and remains a therapeutic challenge. Activating antibodies against the PDGFR have been reported in patients with sclerodermatous cGVHD. These antibodies induce PDGFR phosphorylation and lead to fibrosis. There is increasing evidence of successful treatment of sclerodermatous cGVHD with imatinib, a tyrosine kinase inhibitor.
Objective
To evaluate the response of cutaneous sclerodermatous cGVHD to imatinib.
Materials and methods
Retrospective study of 18 patients with sclerodermatous cGVHD refractory to immunosuppressants treated with imatinib in a single center. Evaluation of treatment response was performed by clinicians' assessment and patients' subjective response at one, 3, 6, 9, 12 and 18 months after initiation of imatinib. Response was assessed as complete, partial, significant, no change or progression. Tapper off steroids was complete, partial or not possible.
Results
In our series, 4 (22%) patients achieved complete response, 9 (50%) patients partial response, 2 (11%) patients significant response, 2 (11%) patients had no change and one (6%) patient progressive disease at last follow-up. Mean time from initiation of imatinib to any degree of response was 2,75 months (range 1-9 months).
Conclusions
This study provides further evidence of the role of imatinib for the treatment of steroid refractory sclerodermatous cGVHD.
Keywords:
Graft-versus-host disease
Chronic sclerodermatous graft versus host disease
Cutaneous graft versus host disease
Imatinib
Treatment
Platelet-derived growth factor receptor
Resumen
Introducción
La enfermedad de injerto contra huésped crónica (EICHc) es la causa más importante de mortalidad tardía no relacionada con la recidiva del trasplante alogénico de células progenitoras hematopoyéticas. La EICHc esclerodermiforme suele ser refractaria a los corticosteroides y supone todo un reto terapéutico. Se han descrito anticuerpos activadores contra el RFCDP en pacientes con EICHc esclerodermiforme. Estos anticuerpos inducen la fosforilación del RFCDP, produciendo fibrosis. Hay cada vez más evidencias de la efectividad de imatinib, un inhibidor de la tirosina cinasa, en el tratamiento de la EICHc esclerodermiforme.
Objetivo
Evaluar la respuesta de la EICHc esclerodermiforme al imatinib.
Materiales y métodos
Estudio retrospectivo de 18 pacientes con EICHc cutánea esclerodermiforme refractaria a inmunosupresores tratada con imatinib en un único centro. La evaluación de la respuesta al tratamiento se realizó mediante valoración clínica del dermatólogo y percepción subjetiva del paciente tras uno, 3, 6, 9, 12 y 18 meses de iniciar el tratamiento con imatinib. La respuesta fue valorada como completa, parcial, significativa, sin cambios o progresión. El descenso de la dosis de esteroides se catalogó como completo, parcial o no posible.
Resultados
En nuestra serie, 4 (22%) pacientes lograron una respuesta completa, 9 (50%) alcanzaron una respuesta parcial, 2 (11%) tuvieron un grado significativo de respuesta, 2 (11%) no presentaron ningún cambio y uno (6%) experimentó avance de la enfermedad en el último seguimiento que se llevó a cabo. El tiempo medio transcurrido desde el inicio del imatinib hasta mostrar algún grado de respuesta fue de 2,75 meses (rango 1-9 meses).
Conclusiones
Este estudio apoya la evidencia de la utilidad del imatinib en el tratamiento de la EICHc esclerodermiforme.
Palabras clave:
Enfermedad de injerto contra huésped
Enfermedad de injerto contra huésped crónica esclerodermiforme
Enfermedad de injerto contra huésped cutánea
Imatinib
Tratamiento
Receptor del factor de crecimiento derivado de plaquetas
Article
These are the options to access the full texts of the publication Actas Dermo-Sifiliográficas (English Edition)
Subscribe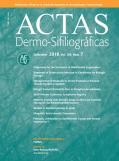 Subscribe to
Actas Dermo-Sifiliográficas (English Edition)
Contact
Telephone
From Monday to Friday from 9 a.m. to 6 p.m. (GMT + 1) except for the months of July and August which will be from 9 a.m. to 3 p.m.
Calls from Spain
902 88 87 40
Calls from outside Spain
+34 932 418 800
E-mail