Article information
Abstract
Full Text
Bibliography
Download PDF
Statistics
Abstract
Introduction
Photodynamic therapy (PDT) involves the combination of a light source and a photosensitizing agent to induce tissue damage via the generation of singlet oxygen. Although topical PDT has been approved for other indications, its use in facial photodamage is uncertain.
Aims
To assess the efficacy and safety of PDT in facial skin photoaging.
Methods
All randomized clinical trials (RCTs) evaluating the efficacy and safety of any form of topical PDT for the treatment of facial photodamage (dermatoheliosis) or photoaging in patients older than 18 years, were included. Photodynamic-therapy using any topical photosensitizing agent at any dose, and with any light-source, were considered. Comparators were chemical exfoliation, intense pulsed light (IPL), light emitting diodes (LED), dermabrasion or microdermabrasion, ablative or non-ablative lasers, injectables, surgery, placebo and/or no treatment.
A systematic search in PubMed, Embase, Lilacs, Google Scholar and RCT's registry databases, was performed.
Results
Search was conducted up to May 4th 2016. Four authors independently selected and assessed methodological quality of each RCT. According to inclusion criteria, twelve studies were included (6 aminolevulinate (ALA) trials and 6 methyl aminolevulinate (MAL) trials), but the majority of them had methodological constraints particularly in randomization description and patients/outcome assessors blindness.
Discussion and conclusions
Overall results indicated that PDT either with ALA or with MAL was effective and safe for facial photodamage treatment, but high quality of evidence was found mainly for MAL studies.
Keywords:
Photodamage
Rejuvenation
Photoaging
Photodynamic therapy
Resumen
Introducción
La terapia fotodinámica (TF) incluye una combinación de una fuente de luz y un agente fotosensibilizante para inducir daño tisular a través de la generación de oxígeno singlete. Aunque la TF se ha aprobado para otras indicaciones, su uso en el fotodaño facial resulta incierto.
Objetivo
Valorar la eficacia y seguridad de la TF en el fotoenvejecimiento de la piel del rostro.
Métodos
Se incluyeron todos los ensayos clínicos aleatorizados (ECA) que evalúan la eficacia y seguridad de cualquier forma de TF tópica para el tratamiento del fotodaño facial (dermatoheliosis) o fotoenvejecimiento en pacientes mayores de 18 años. Se consideró la TF que utiliza cualquier dosis de agente fotosensibilizante, así como cualquier fuente lumínica. Los comparadores fueron: exfoliación química, luz pulsada intensa (IPL), diodo emisor de luz (LED), dermoabrasión o microdermoabrasión, láseres ablativos o no ablativos, inyectables, cirugía, placebo y/o ausencia de tratamiento.
Se llevó a cabo una búsqueda sistemática en las bases de datos de los registros de PubMed, Embase, Lilacs, Google Scholar y ECA.
Resultados
La búsqueda se realizó hasta el mes de mayo de 2016. Cuatro autores seleccionaron y valoraron de manera independiente la calidad metodológica de cada ECA. Con arreglo a los criterios de inclusión, se incluyeron 12 estudios (6 ensayos sobre aminolevulinato [ALA] y 6 sobre metiloaminolevulinato [MAL]), aunque la mayoría de ellos contenían limitaciones metodológicas, particularmente en cuanto a la descripción de la aleatorización y la valoración a ciegas de los asesores de los pacientes/resultados.
Discusión y conclusiones
Los resultados generales indicaron que la TF, tanto con ALA como con MAL, era una terapia efectiva y segura para el tratamiento del fotodaño facial, aunque se encontró evidencia de alta calidad principalmente en los estudios realizados sobre MAL.
Palabras clave:
Fotodaño
Rejuvenecimiento
Fotoenvejecimiento
Terapia fotodinámica
Article
These are the options to access the full texts of the publication Actas Dermo-Sifiliográficas (English Edition)
Subscribe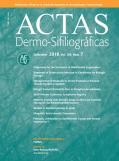 Subscribe to
Actas Dermo-Sifiliográficas (English Edition)
Contact
Telephone
From Monday to Friday from 9 a.m. to 6 p.m. (GMT + 1) except for the months of July and August which will be from 9 a.m. to 3 p.m.
Calls from Spain
902 88 87 40
Calls from outside Spain
+34 932 418 800
E-mail