Article information
Abstract
Full Text
Bibliography
Download PDF
Statistics
Abstract
Gorlin syndrome is a rare autosomal dominant disease caused by mutations in the sonic hedgehog signaling pathway. Of particular importance is the PTCH1 gene. The disease is characterized by the development of multiple basal cell carcinomas at young ages. These tumors may present with other skin manifestations such as palmoplantar pits and with extracutaneous manifestations such as odontogenic keratocysts and medulloblastoma. Although the dermatologist may be key for recognizing clinical suspicion of the syndrome, a multidisciplinary team is usually necessary for diagnosis, treatment, and follow-up. Skin treatment may be complicated due to the large number of basal cell carcinomas and the extent of involvement. In recent years, new drugs that inhibit targets in the sonic hedgehog pathway have been developed. Although these agents appear promising options for patients with Gorlin syndrome, their efficacy is limited by adverse effects and the development of resistance.
Keywords:
Gorlin syndrome
Basal cell nevus syndrome
Basal cell carcinoma
PTCH1 protein
Treatment
Resumen
El síndrome de Gorlin es una enfermedad infrecuente de herencia autosómica dominante producida por mutaciones en genes de la vía de señalización Sonic Hedgehog, entre los que destaca PTCH1. Se caracteriza por el desarrollo de múltiples carcinomas basocelulares en edades tempranas, que pueden ir asociados a otras manifestaciones cutáneas como pits palmoplantares, o a manifestaciones extracutáneas, entre las que destacan los queratoquistes odontogénicos y el meduloblastoma. El papel del dermatólogo es importante en la sospecha de este síndrome, pero suele ser necesario un equipo multidisciplinar en el diagnóstico, seguimiento y en el tratamiento de estos pacientes. El tratamiento dermatológico puede ser complicado debido al alto número de carcinomas basocelulares y a su extensión. En los últimos años se han desarrollado nuevos fármacos que inhiben la vía Sonic Hedgehog y parecen prometedores para estos pacientes, aunque su eficacia está limitada por los efectos secundarios y la creación de resistencias.
Palabras clave:
Síndrome de Gorlin
Síndrome del nevo basocelular
Carcinoma basocelular
Proteína PTCH1
Tratamiento
Article
These are the options to access the full texts of the publication Actas Dermo-Sifiliográficas (English Edition)
Subscribe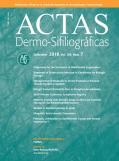 Subscribe to
Actas Dermo-Sifiliográficas (English Edition)
Contact
Telephone
From Monday to Friday from 9 a.m. to 6 p.m. (GMT + 1) except for the months of July and August which will be from 9 a.m. to 3 p.m.
Calls from Spain
902 88 87 40
Calls from outside Spain
+34 932 418 800
E-mail